ADOPTION DAYS
Monthly, 12:30pm-3:00pm
on a Sunday at these
PETCO
locations:

ALLENTOWN:

Tilghman Square
610-395-1057
WYOMISSING:

Broadcasting Square
610-943-9435

For the exact days we'll be there, contact the store or email us.


Absolutely Purrfect is a registered 501(c)(3) non-profit organization serving Lehigh, Northampton, and Berks Counties.
LOW COST SPAY/NEUTER PROGRAMS
Peaceable Kingdom
Lehigh County
610-432-2532

No Nonsense Neutering
Lehigh & Berks Counties
1-866-820-2510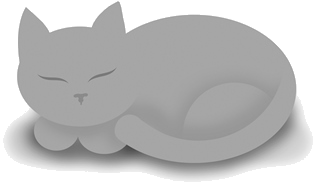 A cat is just
a bundle of purr.


Please email our Adoption Coordinator if you would like more information about the cats featured on this page.
To see the other wonderful cats we have available for adoption, visit out our adoption pages on

Adopt A Pet
and
Petfinder
.
EMBER
Ember is a gorgeous, uniquely colored tortoiseshell tabby (Torbie)who is about 4 years old.

Ember showed up one day at the home of a very nice lady who takes care of some feral cats. She knew Ember looked lost and scared but she eventually won Ember's trust and brought her into her home. Once inside it became apparent that Ember was a house cat before. We don't think she was treated very nicely and was most likely abandoned.

Ember is a little shy at first until she knows she is safe. She does seem to adapt relatively quickly to new situations. Ember has the sweetest personality and enjoys the company of the other cats in her foster home. She enjoys head rubs and likes to play but mostly on her own with a toy mouse, laser light or her favorite, the motorized wand toy. Ember is on the calmer side and loves laying in the sunshine soaking up the rays. She would probably do best in a home that is on the quieter side. 

Ember is currently living with other cats, 3 small dogs and older children. She is spayed, up-to-date on her vaccinations, negative for Feline Leukemia, but she is positive for FIV which is why we consider her "special needs". Feline Immunodeficiency Virus sadly carries an unfair stigma, even within the rescue community. Despite being positive for FIV, Ember is healthy, happy and can stay this way for years. She is simply waiting for a family with an open mind to learn more about the virus. If you think that might be you, Please contact our Adoption Coordinator for more information about Ember. For information about FIV, please visit our FIV Facts page.
Without fundraising to replenish our funds and rising vet costs, we will reach a point where there isn't enough money to continue to be an active rescue. You can help us in raising funds to continue our mission to find forever homes for all our rescues ... just by SHOPPING on AMAZON!


Log on to www.smile.amazon.com and register.
Every time you shop through Absolutely Purrfect will receive 0.5% of your total purchase!

Under "Or pick your own charitable organization", type in "Absolutely Purrfect"; click the "Search" button. On the next page, click on the "Select" button to choose us as your charity. That's it, nothing else to do! As a confirmation, you will see Absolutely Purrfect's name at the top of your screen while you shop.
MYSTERY


If you are looking for a cuddle-bug, look no further than our big beautiful Mystery!

Mystery will lay on your lap and try to cuddle you back. She is a really loving, sweet, gorgeous gray female cat with a spot of white on her belly. She is about 7 years old (as of Nov2015). Mystery belonged to a woman who had a number of kitties, but little money. She came to us after the woman lost her house.

Mystery is spayed, up-to-date on shots, and negative for feline leukemia and FIV. Although she was diagnosed with diabetes, it is being controlled with a special food.* However, because she has to eat special food and is in a foster home with a number of other cats, she has to remain in a specially-constructed cage so that only she can eat her diabetic food.


Her foster mom spends as much time as she can playing with her and holding her, but this sweetheart deserves to be in a home where she can run and play. She will be a very special companion for you! Even the vet's office staff noted what a great kitty she is.

Mystery has a questioning look about her. We think she is looking for a special forever home where she can share her love ... and your lap!

*Funds to help with Mystery's medical needs may be available to the person adopting this special needs kitty!