A cat is just a bundle of purr.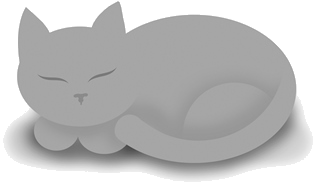 ADOPTION DAYS
Monthly, 12:30pm-3:00pm
on a Sunday at these
PETCO
locations:

ALLENTOWN:

Tilghman Square
610-395-1057
WYOMISSING:

Broadcasting Square
610-943-9435

For the exact days we'll be there, contact the store or email us.
Absolutely Purrfect
is a registered 501(c)(3) non-profit organization serving Lehigh, Northampton, and Berks Counties.

7th Annual Barktoberfest Pet Fair
Saturday, October 3, 2015
11am-3pm
Macungie Memorial Park,
50 N. Poplar St., Macungie

Dog & cat rescues, pet-related vendors, and even some things for the humans!
Barktoberfest is co-sponsored by Absolutely Purrfect
and Paws For Fun.

These are only 2 of the many wonderful cats we have available for adoption. For more information on these cats, and to see others that are available, please visit our adoption pages on
Adopt A Pet
and
Petfinder
.

NERO
Nero is a stunningly handsome young cat. He was recently rescued when he showed up at a volunteer's home. His friendly, happy attitude was obvious from the start. Nero enjoys playing, but loves attention even more. He will follow his foster parents, spend time curled up on their laps and enjoys being held and carried around. His happiest moments are spent with people and he loves to be petted, brushed and simply being near you. He is conversational, but doesn't carry on endlessly. He has an enormous purr, which seems to be non-stop. He is extremely tolerant of everything and everyone. He is a very confidant boy who will adjust well to almost any home. Nero is about one year old, neutered, up to date with vaccinations, negative for Feline Leukemia and positive for FIV.
We consider Nero to be special needs because he tested positive for Feline Immunodeficiency Virus. Sadly, this virus carries an unfair stigma, even within the cat rescue community. Despite being positive for FIV, Nero is healthy, happy and can stay this way for years. He is simply waiting for a family with an open mind to learn more about this virus. If you think that might be you, please check out the links on our home page which provide up to date information about FIV to try and educate the public and erase the unsupported fears about this virus.
Without fundraising to replenish our funds and rising vet costs, we will reach a point where there isn't enough money to continue to be an active rescue. You can help us in raising funds to continue our mission to find forever homes for all our rescues just by SHOPPING on AMAZON!
Log on to www.smile.amazon.com and register.
Under
"Or pick your own charitable organization"
, type in "Absolutely Purrfect"; click the "Search" button. On the next page, click on the "Select" button to choose us as your charity.
That's it, nothing else to do!
Every time you shop through www.smile.amazon.com,
Absolutely Purrfect will receive 0.5% of your total purchase!
As a confirmation, you will see Absolutely Purrfect's name
at the top of your screen while you shop.
MYSTERY
Mystery is a sweet and gorgeous gray female cat with a spot of white on her belly. She is about 6 years old (6/14). Misty belonged to a woman who had a number of kitties, but little money. She came to us after the woman lost her house.
Misty is`spayed, up to date on shots, and negative for feline leukemia and FIV. Although she was recently diagnosed with diabetes, it is being controlled with a special diet. She is a sweet and loving cat; even the doctor's office noted what a great kitty she is.
Misty has a questioning look about her. We think she is looking for a special forever home where she can share her love.

NOTE: Funds to help with her medical needs may be available to the person adopting this special needs kitty!