Please email our Adoption Coordinator if you would like more information about the cats featured on this page. To see the other wonderful cats we have available for adoption, visit our adoption pages on Adopt A Pet and Petfinder.
RUFUS and SYLVESTER - bonded pair
Rufus and Sylvester were rescued together, having lived in the same yard and were friendly during their time outdoors. Now that they are inside, they enjoy each other's company and are often found snuggled up together for their nap time. Truly not wanting to break that bond, we are hoping they will be adopted together.
Rufus is a talkative and playful two year old neutered male who loves being brushed and petted (especially his belly) and seems to spend most of his time purring. Sylvester is about six years old, also neutered, and is a certifiable lap cat - it's the first thing he looks for and he doesn't care whose lap it is! He's a handsome and confident tuxedo cat, and, like Rufus, is playful and loves being brushed and petted.
While both tested negative for Feline Leukemia, Rufus tested negative for FIV, but Sylvester tested positive for FIV. Please do not let this stop you from considering adopting him with Rufus. Because Sylvester has a very friendly disposition and is easy to get along with, he does not have to be an only cat. FIV is transmitted by deep bite wounds from an infected cat and is prevalent among intact male cats who are fighting for territory and mates. FIV has a very unfair stigma even within the vet and cat rescue community. Please click here for an FIV FAQ page. We are hopeful that someone will have an open mind (or is already well informed about FIV!) and want to meet Sylvester and Rufus. They won't let you down!
For more photos and information, visit their pages on Adopt-A-Pet:
RUFUS
SYLVESTER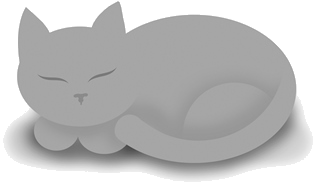 A cat is just a bundle of purr.